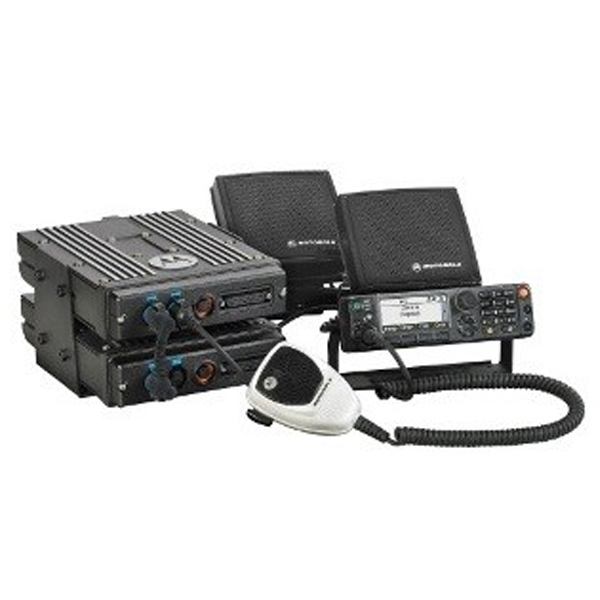 Motorola APX™ Dual Radio
Whether you are responding to a fire call or rushing to a robbery or break in, you need continuous communication and the ability to monitor voice activity at all times. With the APX Dual Radio public safety first responders will be able to achieve complete interoperability all from the ease of a single O7 control head.
With the ability to support up to four frequency bands (7/800, VHF, UHR1, and UHFR2), the APX Dual Radio allows users to simultaneously monitor and communicate with other agencies in both conventional and trunking settings.
No additional features are available for this product
Performance Characteristics
Channel spacing

6.25, 12.5, 25
Encryption type Algorithms

AES, DES, DES-XL, DES-OFB, Advanced Digital Privacy (ADP)
Frequency band

VHF, 700 MHz, 800 MHz, UHF R1 (380-470 MHz), UHF R2 (450-520 MHz), 700 800 (764-870 MHz)
Frequency range

700/800 (764-870 MHz), VHF (136-174 MHz), UHF R1 (380-470 MHz), UHF R2 (450-520 MHz)
Power levels

10-35 watts/700/800 MHz, 25-110 watts/VHF, 25-110 watts/UHF R
Radio Features
Advanced software features

Integrated APCO P25 packet data, Over the Air Programming (OTAP), Over the Air Rekeying (OTAR), Tactical Over the air Rekeying (OTAR)
Scan

Priority, Dual priority
Technology
System type

Conventional, SmartZone trunking, Analog, Digital, X2 TDMA
Adapter Cables
Antennas
Cables
Installation and Mounting
Mounts
Sirens
Speakers and Amplifiers
Two-way Radio Accessories
HAE6010
HAE6010 380-433 MHz 3.5dB Gain UHF Antenna

HAE6013
HAE6013 380-470 MHz 2dB Gain Wideband UHF Antenna

HAE6015
HAE6015 450-520 MHz 2dB Gain Wideband Antenna

HAE6016
HAE6016 450-512 MHz Low-Profile UHF Antenna

HAE6031
HAE6031 380-520 MHz 2 dB Gain Wideband Antenna

HAF4014
HAF4014 762-870 MHz 3 dB Gain Elevated Feed Antenna

HAF4017
HAF4017 762-870 MHz 3dB Gain Collinear Antenna

HKN6168
HKN6168 30-Foot Remote Mount Cable

HKN6169
HKN6169 17-Foot Remote Mount Cable

HKN6170
HKN6170 10-Foot Remote Mount Cable

HKN6186
HKN6186 Remote Mount Control Head Trunion

HLN7031
HLN7031 Low Profile Remote Mount Control Head Trunion Kit Bracket

HSN4018
HSN4018 Water Resistant Motorcycle Speaker

HSN4032
HSN4032 Non-Water Resistant Speaker

HSN4038
HSN4038 7.5 Watt Loudspeaker, Water-Resistant

HSN4040
HSN4040 15-Watt Water Resistant Loudspeaker

TDN6253
TDN6253 Under Hood Siren Speaker

TDN6254
TDN6254 Round Siren Speaker