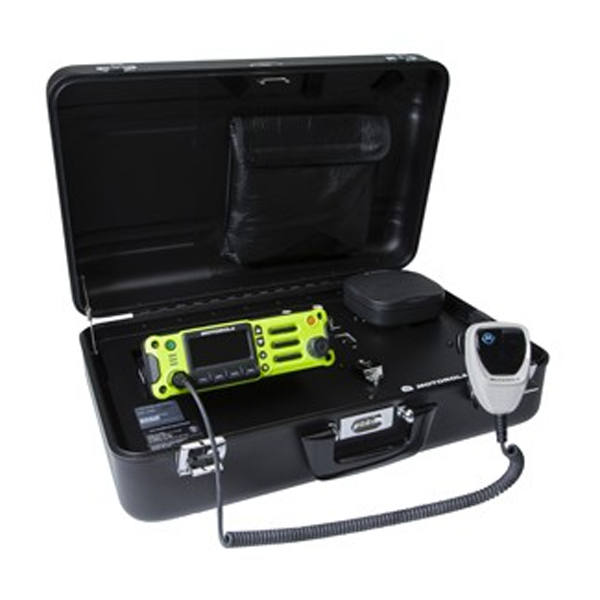 Motorola APX™ Transportable Base Station
The APXTM Transportable Base Station is a rugged yet lightweight rapid deployment product that you can rely on during covert operations and emergency response situations. Ideal for agencies who utilize rental cars, this aluminum lockable suitcase is ideal for "jump and run" scenarios when immediate and clear communications are a necessity. Its compatibility with the APX 7500/6500/4500 mobiles always ensures the most secure and reliable communications. The "mouse-hole" exit for a power cable allows for covert closed case operations. Engineered with top panel quick connections for efficiency, the APX Transportable Base Station is the ideal solution for federal agencies and first responders on the move.
12VDC Vehicle Accessory Power Cable

Included for temporary vehicle installation.

Accessory Storage Pouch

For convenient transportation.

Closed Case Capability

AC/DC power input with "mouse-hole" exit for cable allows for covert closed case operations.

Compatible with 7.5W Mobile Speaker HSN4038A

Ordered separately.

Compatible with APX Mid-Power Mobiles

APX 7500/6500/4500, ordered separately.

Compatible with O2/O3/O7 Control Heads and Associated Microphones

Ordered separately.

Dual Band Operation

Supports multiple radio frequencies.

Encrypted and Clear

For covert mission critical communications.

Optional 13'O3 Microphone Extension Cable (APX 7500/6500 mobiles only)

Ordered separately to meet communication needs

Rugged, Lightweight Design

Aluminum lockable suitcase makes for convenient transportation.

Surveillance-Ready

Tape recorder and headset jacks on top panel for quick connection.
Performance Characteristics
Encryption type Algorithms

AES, DES, DES-XL, DES-OFB, Advanced Digital Privacy (ADP)
Frequency band

VHF, UHF R1 (380-470 MHz), UHF R2 (420 - 520 MHz), 700 800 (764-870 MHz)
Power input

Please refer to the specification sheet for details
Physical Characteristics
Emergency button

Programmable
Radio Features
Ancillary products

External speaker
User Environment
Mil spec

810 C, 810 D, 810 E, 810 F, 810 G
Antennas
Two-way Radio Accessories